ELECTORAL
Absentee & Advanced Voting

Elections & Voting – an Overview
The office's responsibilities include:
Assisting elected officials and candidates in completing state ethics forms and maintaining them for public inspection
Conducting elections for federal, state, and local offices
Federal, state, and local redistricting
Maintaining U.S. Justice Department compliance and implementing federal and state legislation, Supreme Court Decisions, and Attorney General Opinions
Other functions include voter registration, voter education, and service to the community where we work and live
The office staff consists of 2 full-time persons and a varying number of part-time staff to meet polling place staffing.
For additional voter information including an online voting registration form, visit the Georgia Secretary of State. Citizens wishing to vote by mail may request an absentee ballot by phone, email, fax or in person.
If you have any further questions please call 912.449.2028 or visit mvp.sos.ga.gov.
The Secretary of State's Office has established a secure website and free-access telephone number for provisional ballot voters to access to determine whether their provisional ballots were counted and if not, the reason why.
The toll-free access number is: 1.844.537.5375
The Pierce County Voter Registration and Elections' Provisional Verification number is 912.449.2028 or leah.ritch@piercecountyga.gov.
Registration Requirements
You have the right to vote in a Georgia election if you meet all of the following criteria:
You are a citizen of the United States; and
You are a legal resident of Georgia; and
You will be at least 18 years of age on Election Day; and
You are not serving a sentence for a felony of moral turpitude; and
You are registered to vote
To check your registration status, absentee ballot status, a sample ballot, or find your polling location visit the My Voter Page (MVP). If you are not yet registered to vote, you can complete the Online Voter Registration or complete the Voter Registration Form (PDF) and return to:
Pierce County Elections
312 Nichols St., Suite 2, Blackshear, GA 31516
You may also check whether you are registered through MVP.
Change of Residence
Voters are required to notify the supervisor of elections whenever they move. If you move within the same county in which you are registered to vote and don't notify the supervisor at least 30 days prior to an election, you may vote in your old polling place for that election. You must file a notice of your new address. This can be done by writing to your county Elections Office, or by submitting a new voter registration application.
If you move outside the county in which you are registered to vote within 30 days of an election, you may vote in your old precinct for that election.
If you move outside the county in which you are registered to vote in excess of 30 days prior to an election, you have lost your eligibility to vote in the county of your old residence. You must register to vote in your new county of residence. You will be assigned a new voting precinct and polling location. Remember, if you don't register to vote by the deadline, you cannot vote in that particular election.
Pierce County Courthouse Annex III
Board of Elections & Registration, 312 Nichols Street, Suite 2, Blackshear, GA 31516
t: 912.449.2028
Early Voting
Voters from all 8 precincts can cast their votes up to 21 days before Election Day at the Pierce County Elections Office.
IN-PERSON
To vote in person you must show one of 6 types of Photo I.D.
You may apply for a ballot for a relative who is disabled or out of town, but that ballot will be MAILED directly to the relative
Advance Voting generally opens 21 days prior to elections at the Main Office.
Advance Voting Locations.
TRACK YOUR BALLOT
Visit the Georgia My Voter Page (MVP)
In the Login section, provide your name, county of residence, and date of birth
On the My Voter Page, review the 'Absentee Ballot Request Information' section
to click on the 'Click here for Absentee Ballot status' link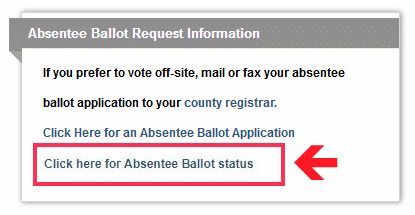 BY MAIL
Apply for an Absentee Ballot by downloading the application. If you are Military and Overseas Citizens download the Federal Post card application.
Fill out the application completely confirming all appropriate fields are answered and a physically signature or mark is provided by the first black arrow indicator. If the application is requested by a relative, a signature or mark should be provided by the second black arrow indicator.
Send in the application via:
FAX: 912.807.9940
MAIL: Pierce County Board of Elections & Registration,
312 Nichols St., Suite 2 Blackshear, GA 31516
IN PERSON: Pierce County Board of Elections & Registration Office,
312 Nichols, St., Suite 2, Blackshear
EMAIL: lea.parker@piercecountyga.gov
After the application is reviewed, an Absentee Ballot will be mailed to your address.
Once you have received the Ballot and cast your vote, submit the ballot via
MAIL: Pierce County Board of Elections & Registration, 312 Nichols St, Blackshear
IN PERSON: Pierce County Board of Elections & Registration Office,
312 Nichols, St., Suite 2, Blackshear
Pierce Elections office must receive your hand delivered ballot by 7pm ELECTION night and received by the Pierce Elections office by the predetermined deadline.
Election Day Voting
All voters can cast their votes at their assigned precinct on Election Day. Check your precinct card to determine your Polling Location.
Provisional Ballot Voting
A provisional ballot is a paper ballot cast by a voter, when the polling place manager cannot readily determine whether the voter is registered to vote in that particular precinct.
After a provisional ballot is cast, the Elections Office has 3 days after the election to research and determine if the individual is a registered voter and the ballot should be counted. 
To find out if your provisional ballot was counted prior to receiving a letter, you can email, call 912.449.2028.
---
Contact Us
Physical address:
312 Nichols Street,
Blackshear, GA 31516
t: 912.449.2022
f: 912.449.2024
Mailing address:
P.O. Box 679,
Blackshear, GA 31516
---
E-Verify Authorization
Number: 72031 | Date: 12/06/2007.
---
About Pierce County
Pierce County, established in 1857 and named for President Franklin Pierce, grew out of Appling and Ware counties' lands.
The county seat, Blackshear, bears the name of General David Blackshear who fought Indians in Georgia and Florida during the War of 1812.
---
Board of Commissioners
We appreciate your interest in Pierce County, Georgia, and hope this site proves useful in providing information about the Board of Commissioners, local government, and our community. Should you have questions, please contact us at: 912.449.2022.
---

Georgia Bureau of Investigation
Human Trafficking Notice  |  click here