GOVERNMENT
Recreation Department

Recreation Department
Each season brings a new sport(s): football (which includes flag and tackle), soccer, and cheer are offered during the Fall; basketball in the Winter; soccer, baseball, softball, MPL, (Machine Pitch Lite), and Kickball in the Spring. We are working on expanding our sports programming!
If you have any questions you may contact our office at (912) 449-4791 or you may email us at [email protected].
Athletic Policies and Procedures
Simply click to see this PDF file
Coach's Sportsmanship Agreement
Simply click to see this PDF file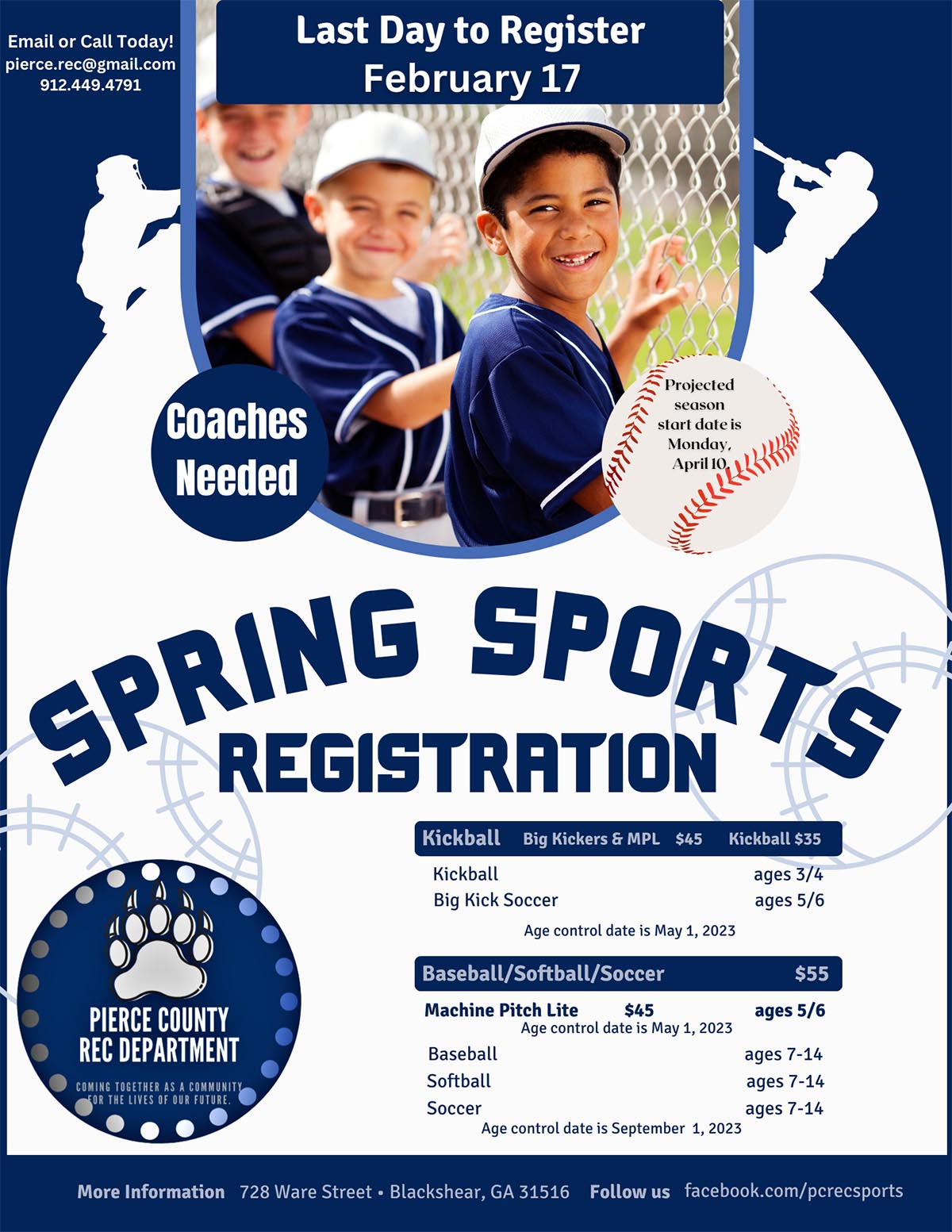 While email registration for Spring Sports ended at the close of business on Friday, February 17, in-office registration for Spring Sports continues Monday thru Friday, 9:00 am until 5:00 pm at the Rec Dept. office located at 728 Ware Street.
VACANT
Recreation Director
728 Ware Street
Blackshear, GA 31516
t: 912.449.4791
f: 912.449.0866
email: Recreation
---

Contact Us
Physical address:
312 Nichols Street,
Blackshear, GA 31516
t: 912.449.2022
f: 912.449.2024
---
E-Verify Authorization
Number: 72031 | Date: 12/06/2007.
---
About Pierce County
Pierce County, established in 1857 and named for President Franklin Pierce, grew out of Appling and Ware counties' lands.
The county seat, Blackshear, bears the name of General David Blackshear who fought Indians in Georgia and Florida during the War of 1812.
---
Board of Commissioners
We appreciate your interest in Pierce County, Georgia, and hope this site proves useful in providing information about the Board of Commissioners, local government, and our community. Should you have questions, please contact us at: 912.449.2022.
---

Georgia Bureau of Investigation
Human Trafficking Notice  |  click here